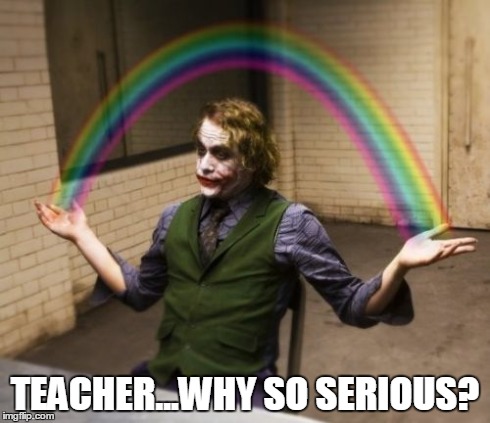 Dear Teacher,
If you are like a lot of other teachers that I have talked to this week, you may have just had a pretty rough week.  It was pretty mediocre for me, but I have had a bad week or two recently, as well.
Fridays of bad weeks can be good and bad.  They are great because the week is over.  They really stink because you have to take stock of the week and figure out what went wrong.
If the week was bad enough, we probably lost our cool and did some things that we aren't quite proud of…poor reactions, poor choices, etc…  Fridays like that are even worse.  We have to deal with the week and deal with ourselves.  Never, ever, ever fun.
So, for those that had a long week, let's have a theme song post.  Click play and then read on.
Teacher, your job is hard.
You have so much to deal with every day.
It seems like the days that go bad, go bad in almost every way possible.
One bad day can lead into another…and another…and before you know it, you have had a bad week.
Bad weeks happen.  They happen to the best and worst of us.  They bring out the worst in us…but don't forget, they also bring out the best of us.
"What do you mean, teacher-who-obviously-did-not-have-a-bad-week?"
I know that you don't want to think about it today, at the end of your awful week, but bad days and weeks teach us more than the good ones.
We learn what doesn't work.
We learn what some of our "triggers" are.
We learn what we need to avoid.
We learn that the students may nor have learned as we thought they did.
Not only that, weeks after bad weeks always seem to help us get stronger as a teacher.  We dig in, we find a way to keep moving and keep going, and we find ways to try to avoid weeks like we just had.
We learn new strategies because we had to work so hard just to get through the week.
We learn that we had resources that we did not know that we had.
We learn that we are stronger than we thought we were.
We learn that we have students that cared about our bad weeks (when they come and say that they are glad the next week is going better for us).
We learn that we have colleagues that actually do care about us (even if it is just one or two).
We learn that we love teaching as much as we thought we did, even though we hated it the week before (the bad week).
There is a silver lining, Teacher.  Even if you don't see it now, it is there.
It is okay to bemoan your bad week.  It is human.  Hate this week.  Wish it never happened.  Lick your wounds and do what you need to do, just don't stay there.
Find the strength.  Find a way.  Move on.  Use this week to become the awesome teacher that you are and can be.
Bad weeks suck, but we need them.  You can get through this.
And never forget…you are not there for you.  You are at your school and in your classroom for your students.
They matter most.
They are your motivation to get through this.
You can do it.
You are awesome!  I know this week was bad, but you can and will keep moving.  Even in this horrible week, you made a difference…even if you don't know it now.  Keep going.  Never give up.  Keep on teaching, Teacher!
Love, Teacher