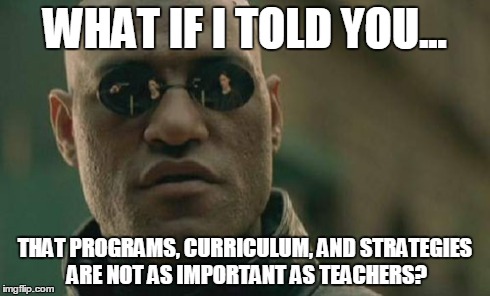 Dear Teacher,
We live in a world that is trying to figure out how to change the state of education.  Common Core this.  Latest, greatest PD that.  Technology.  Strategies. Best practices.
Name your teaching cliche.
People who do not teach or haven't taught in a while tell us how we need to teach.
Not that any of what I mentioned is necessarily bad…that is not my point.  There is just so much that we are asked and told to do.  Sometimes we are even treated as if we don't have a clue about how to teach.
It can be overwhelming.  It can be frustrating.  It can be irritating.
Trust me, I know.  I live it every day, just like you.
But, if I may, let me encourage you with one thought.
You know something that the education problem-solvers do not know.  It is the one thing that will make more of a difference than any work of legislation or professional development breakthrough.
You know your students.
You see them every day.  You talk to them.  You see how they work.  You know their struggles.  You know their names.  You know their parents.  You know their personalities.  You know them.
You know them like few others do.
This is what makes you special.  This is what gives you the edge.  This is how you will change education.
Don't be afraid to make choices based on what you know…your students.  Have courage to make a stand when it needs to be made.  Be brave and do what needs to be done.
You know your students.  You know what they need.  You know how to get things done.  Get them done.  Make a change!
You are smart, experienced, and capable, Teacher.  You can do this.  Listen to the voices out there, but take everything with a grain of salt.  You can do this.  You can make the change that needs to be made in the lives of your students.  You really can make a difference.  Get out there and make it!
You are awesome.  You are the key to educational change.  Go in confidence today!  You've got this.  You are amazing!  Change those students' lives!  Keep on teaching, Teacher!
Love, Teacher