Dear Teacher,
How is the week going for you?  I know it is early, but it has already been a tough one for me.  However, a rough week already bearing its head and it is only Tuesday seems to be par for the course this year.  Like a most of the other teachers I know and talk to, this has been a difficult year so far.  Not all bad, just super challenging.
Thinking today and about the message that I need to hear (most of the time I write to you as a way to talk to myself…I am a teacher like you, after all 🙂 ), an idea and analogy for my role as a teacher at a Title I school that I have had for the past several years came back to mind.  It is the concept of who I am and need to be sometimes.  This analogy came to me from a song…so I am thinking that I need to make this a theme song post to share about this.
Click play and read on.  Oh, please ignore the cheesy-ness of the video.  It is an older song that you may have never heard before, but give it a listen while you read.  I so hope this all makes sense…this is an analogy and song that I cling to on the hardest of days.
We have a difficult job.  There is so much to do.  So much that we are expected to get done.  Sometimes it seems too much.  Some days (most days) we strive to get by and just keep our heads above the water.
We get to school, look around, and try to sort through all of the "to do's" to get "to done."  We let some plates drop while we focus on others, and we look for the light at the end of the tunnel while we trudge through the darkness of the day to day.
It is overwhelming.
It can be too much.
But sometimes we forget two vital things: who we are and the reason that we are here.
You are a teacher, Teacher!  You have made it through teacher training.  You have been through student teaching.  You have passed state exams.  You have made it through evaluations.  And you have survived tough years of teaching before.
You find a way to juggle "real life" and school.  You balance your time, schedule, and money.  You find a way to get things done no matter what.  You are do so much and you are capable of so much more.
Teacher, you are a monster.
You do the impossible every day.  You do a job that most people don't have the heart or guts to do.  You are fierce.  You are strong.  You are awesome!
You can be scary, sometimes, but only when you have to be.  You are a monster of the best variety.
Don't let the chains of the system hold you back.  I know it is hard.  The chains are binding.  But you can break them.  You can find a way to be the monster that you need to be.
Why do you need to be a monster?
That is the other side of this…the other thing that we forget when we are enslaved to the extras that come with our job.
There is a village that has bad monsters tormenting it.  There are villagers that need our help.  They need the monsters that we can be to defeat the monsters that should not be.
Our students need us.  We often forget the monsters that torment their lives.
These monsters are different for different students, but they are still there.  The common monsters that are against them are apathy, laziness, and a want to take the easy road.  Sometimes the education system itself can be a common monster.  There are probably a lot of others, too, but I think you get what I mean.
Not only are there the universal monsters, but there are other, very menacing monsters that stalk many of our students, too.  I won't go into details, but we often do not know what our students face when they leave our school…not to mention some of the monsters at the school (bullying, peer pressure, etc…).
There is a world of monsters trying to pillage and plunder the lives of our students.
One of our main jobs is to be the last line of defense.  Sometimes it takes monsters to beat monsters.
You, Teacher, are one of those monsters…you are a good monster.
So, Monster, open your eyes today.  Break those chains that are holding you back.  Give up some of the battles that don't matter and go save a village!
I know that it is hard sometimes to know where to fight, but make your focus the students and the monsters that are eating them alive today.  Help them fight.  You might be their only hope.
I really hope this made sense!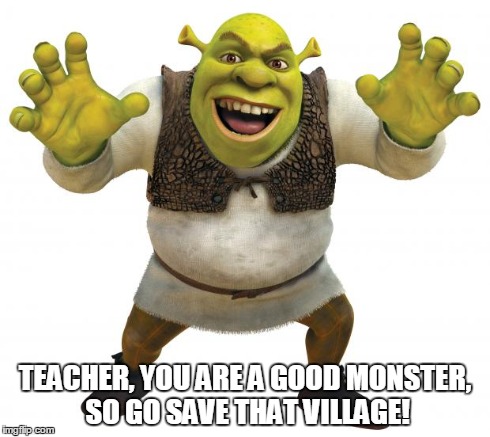 You are so awesome!  I know that you are a monster of the best kind and that you battle well against what plagues your students.  Fight on and keep on teaching, Teacher!
Love, Teacher