Dear Teacher,
I have a feeling that you are like me.  You are a decent teacher, but sometimes you have moments of sheer teaching genius.  You have times where everything that you touch turns to teaching gold.  Those times are few and fleeting, but they happen.
We also have those fortunately fleeting flickers of time when the opposite happens.  Everything you touch turn to teaching…well, you know what I mean.
We tend to get hung up on those two extremes.  We either look back at those hours of  greatness and wonder how to get back to them, or we beat ourselves up for the seconds of eternal not-so-greatness and try to figure out how to avoid them forever.
What we miss more than too often are the times in-between.  The every day situations.  The times when things work out just okay.
I think that the "just okays" are more important than everything else.
Why?
Because the "just okays" are what we do as teachers.
Huh?
I won't go into it again today, but yesterday I reminded us all of all the things that we deal with as teachers every minute of every day.  We have a lot working against us.  There are a mountain of issues that we have to climb each and every day.  It is almost like we are set up to fail most days.
But we don't fail.
Somehow we survive.
More than that…
Somehow we are able to teach, reach, and help students become learners and better people.
The every day "just okays" are how we do this.
The awesomeness of what we do happens in the daily grind of teaching.  We have a sense of what needs to be done, what we need to do to get it done, and ability to somehow get this things done.
Everyday we just have to have faith that we know the right things…and we step out in that faith.  Somehow, when all is said and done, we find that we were usually right with the choices that we made in our classroom day-to-day.
The steps of faith are what make up okay days.  The cool thing is that those kind of days add up.  Over time, we can look back and see that we are, just maybe, a little better than "just okay."
Another result of the pressing on in faith to make days okay also help us do something else pretty cool.  Over time, the "okay days" also often lead to those moments of grandeur and away from of the moment of lack-of-grandeur.  The more okay that we have, the more great days tend to build up and we have longer periods of time between the terrible, horrible, no good, really bad days.
I am reminded of a scene from one of the best movies ever, Indiana Jones and the Last Crusade.  Indiana has to trust his interpretation of clues that he is chasing.  He stands over a huge chasm.  He thinks he know what to do.  His father's life is in the balance.  He has to trust what he thinks is right.  Do I need to point out the connections to the "just okay" days?  I think you get it!  Anyway, watch this clip.
"Just okay" is not a bad thing.
"Just okay" is not an awful goal.
"Just okay" means you are doing something right.
So what does this mean for you and me?  We need to daily have faith in ourselves.  We know what to do.  We have that teacher instinct of what the right thing is.  We just need to do it.  Day after day.  Week after week.  All of our "okay" will be our greatness.  It proves our awesomeness.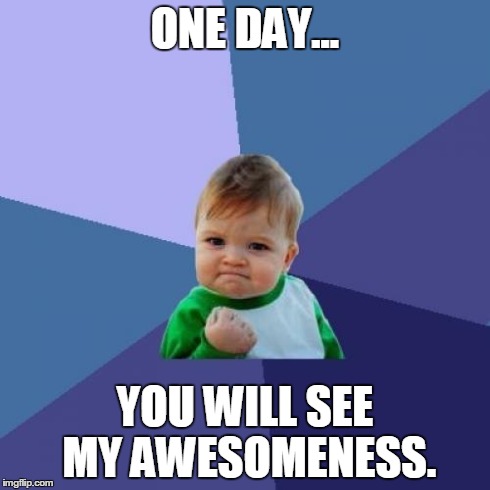 You really are awesome!  Your gut is usually right.  Trust it.  Take daily steps of faith.  Your "okay" is more than just okay.  You've got this.  You are making a difference!  Keep going and keep on teaching, Teacher!
Love, Teacher